Syscraft is Young at Heart but with an experience of a Veteran in the IT field. This has helped us establish ourselves in the Pune market over the last 18 months. With Firm determination, customer acceptance and vendors support, we expect to Triple our revenues YOY at the least.
At Syscraft, we have a combined experience of over 50 man years in the IT infrastructure business. We have been helping customers through the entire Infrastructure Optimization Lifecycle.
With expertise in licensing of multiple software publishers and hardware OEMs, Syscraft is uniquely poised to help customers get the most out of their IT investments.
Having worked closely with customers for over 20 years, we understand customer needs, constraints and can offer solutions that are not only the right fit for now, but also future.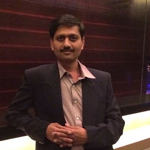 RAKESH SATAV
Founder member of Syscraft, Rakesh comes with 15+ years of experience in the IT Field. He specializes in IT Infrastructure domain and has a deep understanding on Compute, Storage and Virtualization technologies.
His professional experience includes all aspects of Sales and Distribution, Marketing, Team handling etc. He has worked on complex Infrastructure projects and has the passion to help his customers reach their desired business outcomes. He spearheads the Syscraft Sales and Operations.
VAIBHAV SHINDE
Techie by Profession, Vaibhav specializes in Collaboration, Information Security and Management solutions. He has 10+ years of professional hands-on experience in core IT System Implementation, Administration, Server migrations, Cloud-based migration, Backup and Disaster recovery. He is quick to identify security gaps and suggest Right fit solutions in large & complex IT environment of customers.
At Syscraft, he is the backbone of our Pre-Sales and Technical services division and is completely focused on planning, managing and execution of IT Projects. He is instrumental in developing the Technical services team and also in setting up metrics and processes for future advancement.
We strive for

Our vision is to be the "Partner of Choice" for our esteemed customers by providing innovative IT solutions that are not only the right fit today, but also scalable to meet the future needs of a growing business.
With in-house technical expertise in all our lines of business and growing support from all our Technology partners, every day we are inching towards this singular goal.
We believe Technology is for People. Products, Services and solutions can change, however people at both ends will always matter. Hence at Syscraft it really is about our Customers and Employees First.
What our clients say:

Large Manufacturing Customer
With decades of experience under their belt, we are happy to work with Syscraft team. They are responsible , reliable and cost effective.
Mid Size IT Development Company
We had the confidence in the teams ability and have entrusted them with a very large transaction recently. Syscraft team not only helped us get the Best deal on price but also helped us get our transaction financed.
Large IT Product Company
Syscraft has deep understanding on the Licensing of various Software publishers. We have started working with them recently and have got the right advice at the right time.